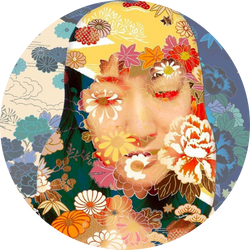 B.MIYO
B.Miyo is the artist name of Wailuku, Maui based illustrator Bailey Onaga. B.Miyo is a combination of Onagaʻs first name and middle name "Miyoko" pronounced "ビミョウ" B.Miyoʻs aesthetic is a homage to her native Hawaiian heritage and homebase as well as the whimsical, "Kawaii" visuals of Japanese art. Rather than being torn by the dualism of cultural identity, B.Miyo's illustrations are a fusion of the two places she calls home."
Bmiyo.com
Instagram: @b.miyo_art
SABRIINA FUTCH
Sabrina Futch is an illustrator and comic book editor born and raised on Maui. She creates humorous and explosively colorful prints and zines inspired by indie bands, a childhood obsession with manga, and her silly little life. She is a graduate of Rhode Island School of Design currently based in Los Angeles.
sabrinafutch.com
Instagram: @sabrinafutch
Twitter: @crescentr0ll
SWAN KAHO'OKELE
Swan Kahoʻokele aka Warchief is an artist who grew up with a deep love for comics and cartoons. Swan is also a game master to D&D community and has found a way to weave his art into his games, creating maps and other character art for his campaigns. Other than being a Game Master, Swan is also working on building up his own comic brand, Uhane Comics.
KAIMANA YAMADA
Kai was born and raised in Lahaina and graduated from Lahainaluna High School in 1996. Deciding that school and college was not for him he later moved to Oahu and eventually decided pursue a career in tattooing. After working for 11 years in the tattoo industry from banging out tattoos next to seedy motorcycle bars across from military bases to the sunshine beach and steamy busy nights of Waikiki, Kai later decided he wanted to fullfill his childhood dreams of creating comic books. Throughout the spring and into summer of 2018 Kai created KY publications and wrote, drew, and published his flagship title, Gammadise. A graphic novel series that follows a group of survivors in a post nuclear attacked Hawaii. A story of Hawaii if the ballistic missile threat of January 13th had actually happened with unexpected results. Kai still lives in Oahu where he currently still tattoos in Kalihi and is working on the next issue of Gammadise and other future titles.
NOBLEISMS ART
Raised in Hawaii and being part of its cycles of life you recognize its oceans, rivers, forest, beaches, and people don't always tell pleasant stories. Living in paradise you realize that landscapes aren't permanently beautiful, and in some situations neither are the people and there way of life. Artist and art mentor Robert Henri says "there seem to be moments of revelation moments of when we see in transition of one part to another the unification of a whole." It is these moments that I wish to capture, moments that visitors may never catch a glimpse of. Whether or not these images evoke warm or dark feelings, it's the relationship with the viewer that is most important. I want my images to network thoughts; reminisce memories; and hopefully, in certain situations, manifest solutions. I illustrate this through paintings, drawings, clothing, tattoos, and murals that narrates an unseen local color of our Hawaii lifestyle. My art is meant to be intentional and sometimes ambiguous with a choice for the viewer to be inspired, offend, or enlightened.
DREW GUTIERREZ
Hello, I'm Andrew "Drew" Gutierrez from Mililani, Oahu. I love reading and drawing comics. You can see my work on Instagram @mashmonsterenterprises.

REID KISHIMOTO
Reid (aka Hoʻomaka) is from Oʻahu. Graduated from the University of Hawaiʻi at Mānoa with a degree in Art (graphic design).
His heavy influence by both western comics and anime/manga is present in his art. He does both traditional and digital art. Currently he is starting work on his own comic. He has done commissions for companies and people like EVO and Vampybitme. If you want to see samples of his art go to his Instagram listed below.
Reid also streams online on Twitch multiple times a week under the name Hoomaka. People on Twitch think he looks like Maui…go figure huh? Lol It's probably because of the hair…who knows?
Twitch.tv/hoomaka
Instagram: @hoomaka78
DJ KEAWEKANE
DJ was so consumed with drawing at an early age that he would get in trouble for it. In the 90's he fell in love with comics and was inspired by Jim Lee, Joe Madureira, Marc Silvestri and many others.
At 18, he started playing music instead of drawing, giving up on ever becoming a comic book artist. But in 2002, he got into a car accident, breaking his spine in three places. During the year of recovery that followed, his mother brought him a sketch book and he created Exillion: Creed of the Knightenhawke.
DJ's title is a swords and sorcery fantasy about a group of fugitives that escape from prison and wreak havoc. The Knightenhawke, an elite band of knights, and a colorful group of Storm Runners race to bring the criminals to justice during an all out Orc war.
JON J. MURAKAMI
Jon graduated from the University of Hawai'i at Manoa with a bachelor's degree in fine arts, and is perhaps best known for his line of Local Kine Greeting Cards which depict humorous occasions and holidays in Hawaii.
His regular comic strips include Calabash with the Honolulu Star-Advertiser newspaper and Generation Gap with the Hawaii Herald. Additionally Jon has illustrated several Hawaiian children's picture and board books and self-publishes the comic books, Gordon Rider and The Ara-Rangers.
Gordon Rider follows the misadventures of the worst superhero in Hawaii. The Ara-Rangers is a parody of Go-Rangers™, The Power Rangers™ & Voltron™. A group of costumed superheroes, arare themed, fighting crime in silly, wacky stories.
TODD BERNARDY
Todd Bernardy studied fine art and literature at the University of New Mexico. Now living in Haiku, he creates comic books. Kukui Project describes a future where astronauts from the Kingdom of Hawaii's private space industry are recruited to disarm the weaponized solar system once a global cease fire is called. In ancient Hawaii, kukui nuts were strung together to be lit on fire because they were very oily. The peacekeeping mission was nicknamed "Kukui Project"