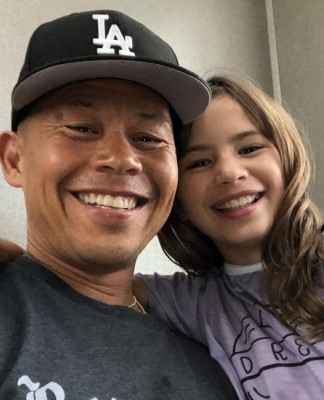 ERNIE REYES JR.
Award-winning actor, martial artist, stuntman and entrepreneur Ernie Reyes Jr. began appearing in television and movies as a child after a Hollywood agent spotted his talent while performing on his father's martial arts demo team. Along with more than forty credits as a TV and film actor, Reyes is a producer, director, writer, stunt coordinator and fight performer.
A Filipino American, Reyes has a deep connection to Hawaii and the Hawaiian people. "I started coming to Hawaii in the mid-1980s when I was doing Sidekicks and we filmed some promotions there. It's always felt like a second home to me. I have many friends and family that live there. We even shot a few scenes from Surf Ninjas in Hawaii, as well as when I worked with Dwayne "The Rock" Johnson in The Rundown."
Ernie will be joined at Maui Comic Con by his daughter Lotus Blossom, who stars as Acapella in the Netflix hit film, We Can Be Heroes, directed by Robert Rodriguez. This is the first time Reyes and his daughter have appeared together at a public convention.
Instagram: @erniereyesjr
Twitter: @erniereyesjr
LOTUS BLOSSOM
Lotus Blossom first gained national attention in a T-Mobile campaign. She played an adorable, but sassy, little girl selling lemonade — with a whole lot of hidden fees. Lotus's pitch-perfect performance earned her a 2018 "Best Actress" nomination from the Young Artist Academy.
Far more than pigtails and a bright smile, Lotus is carrying on in the tradition of her legendary family. Lotus trains with her father, at West Coast Martial Arts, in the highly skilled, and acrobatic techniques of cinematic martial arts made famous by the Reyes family. Lotus confidently performs her own stunts, and is gaining a reputation as a fierce Asian-American stuntwoman.
Instagram: @lotussblossomm
FRANK CHO
Frank Cho is an Emmy Award-winning and critically acclaimed writer and illustrator. He is known for his newspaper comic strip series, Liberty Meadows, as well as for his work at Marvel Comics such as Mighty Avengers, Spider-Man, X-Men, Shanna the She-Devil, the Hulk and Savage Wolverine. He is also known for his Harley Quinn, Batman and Wonder Woman covers at DC Comics.
Frank Cho is noted for classical and energetic figure art, beautiful illustrations of women, humorous writings and adventure stories.
Presently, Frank Cho has finished Skybourne at BOOM Studios, and is working on various creator-owned projects, Autumn, World of Payne, and War Wytch with novelist Tom Sniegoski at Image Comics.
He is currently wrapping up Fight Girls at AWA Studios.
LIAM SHARP
Liam Sharp is an award-winning British novelist, comics writer, artist and publisher living in California with his family and the cat that adopted them.
Liam drew the best-selling WONDER WOMAN: REBIRTH series's, 'THE LIES' and 'THE TRUTH', and the acclaimed THE BRAVE AND THE BOLD: BATMAN AND WONDER WOMAN series, which he also wrote. He recently finished an epic 24 issue run drawing THE GREEN LANTERN, scripted by the legendary Grant Morrison, BATMAN: REPTILIAN for DC's Black Label imprint, scripted by the great Garth 'The Boys' Ennis, and BATMAN AND CATWOMAN with Tom King.
Liam is currently working on his creator-owned series STARHENGE: MERLIN with Image comics.
ED PISKOR
Ed Piskor (b. 1982) was born and raised in Pittsburgh, PA. He is a former student of The Kubert School and collaborated with underground comics pioneer Harvey Pekar (American Splendor) before creating the best selling series Hip Hop Family Tree and X-Men: Grand Design (the latter for Marvel Comics). His latest creator-owned series is the shocking Red Room and is a breakout hit for Fantagraphics Press. You can find him talking comics with other independent creators on the hit YouTube channel – Cartoonist Kayfabe.
JIM RUGG
Jim Rugg is a comic book maker, designer, and YouTuber. Books include Street Angel, the PLAIN Janes, Octobriana 1976, Afrodisiac, Notebook Drawings, Rambo 3.5, and Supermag. He started the YouTube channel Cartoonist Kayfabe with Ed Piskor in 2018. He teaches visual storytelling at the School of Visual Arts and the Animation Workshop in Denmark. Accolades include Eisner and Ignatz Awards and AIGA 50/50.
R KIKUO JOHSNON
R. Kikuo Johnson is a cartoonist born on Maui in 1981. His graphic novels include No One Else, Night Fisher, and The Shark King. Since 2006, his comics and illustrations have regularly appeared in the pages and on the cover of The New Yorker. He divides his time working in Brooklyn, teaching at the Rhode Island School of design, and relaxing with family on Maui.